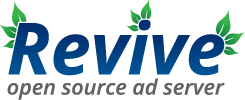 Revive Adserver Hosting
We'll take your Revive Adserver hosting to the next level by putting it on our world class cloud server platform
Sign up
Pricing Plans
Recent featured blog posts
New major release of the popular, free, open source ad server, includes support for HTML5 ads.
In January 2017, the Revive Adserver open source project opened a crowdfunding campaign on Patreon. We decided to pledge a small amount of our monthly revenue to this campaign.
A new tutorial will help you Get Started with Revive Adserver in no time!